Pure Essence- LifeEssence Whole Food Multivitamin
Life Essence - Energizing Whole Food Multiple
Life Essence provides every vitamin and mineral your body needs. It also delivers enzymes, metabolic pigments, flavones, trace elements, amino acids, antioxidants, and countless co-nutrients and phytochemicals. Together, these things create a multiple like none you've ever seen before—one that not only supports health, but actually builds it.
Superior Tonic Herbs are, in short, the world's oldest and safest dietary supplements. Their benefits have been documented by over 300 generations of holistic physicians, and they are provided, even today, exactly as Nature makes them. They should, along with the nutrient dense SuperFoods (or Green Foods), form the foundation of every nutritional regimen. There is, quite simply, nothing else on Earth that can match the benefits they offer.
For over 10 years Life Essence has been the world's most energetic multiple. It contains a 100% Organic Whole Food Base that includes spirulina, chlorella, oatgrass juice concentrate, and barley grass juice concentrate. Its vitamins and minerals are the very best that money can buy, and its superior Tonics are the purest, cleanest herbs available.
Life Essence cell supporting multiple serves as:
A Complete Multiple Vitamin and Mineral Formula
A Superb Antioxidant Complex (Alpha Lipoic Acid, L-Cysteine, MSM, Grape Seed, etc.)
A Complete Memory Support System (with the finest ginkgo extract)
A Wondrous, Organic Green Superfood Supplement to energize every cell
An Amazing Cellular Support System to optimize every organ and gland in the body
A Remarkable Phyto Nutrient Complex (literally, thousands of phytochemicals)
A Complete Metabolic Support System with over 1,000 nutrients
---
Life Essence - The World's First Superior Tonic Multiple
In every moment of every day, our bodies are busy conducting hundreds of thousands of different metabolic reactions. These reactions control digestion, immune response, hormone production, pH balance, the five senses and every other aspect of human function. Thus, health is simply a reflection of how efficiently these reactions occur.
Metabolic efficiency is limited by the amount of energy that is available to the cells in which metabolic reactions occur, and by the health of the cells themselves. The energy available to the cells depends on the quality of foods we eat, and on the presence of vitamins and minerals, which activate enzyme systems that liberate energy from foods. The health of our cells can be damaged by many things, such as dehydration, glycation, and free radical oxidation. We can avoid dehydration by drinking plenty of pure water, and glycation by avoiding processed carbohydrates. While it is impossible to avoid free radical oxidation, the damage from it can be minimized, and even reversed with antioxidant nutrients. Maximum protection, however, requires an incredibly wide variety of such nutrients.
Because modern foods do not provide the levels of vitamins and minerals we need for maximum metabolic efficiency, the world's most prestigious medical publication recommends that all Americans use a multiple vitamin and mineral supplement every day. Research shows that such supplements maintain health and boost immune system response.†
Until 1981, multiple vitamin and mineral supplements provided nothing but vitamins and minerals. While these products helped liberate energy from foods, people who used them rarely reported feeling much better, because most of the foods in the American diet require so much energy to digest that only a small amount of net energy is gained for use in the metabolic process.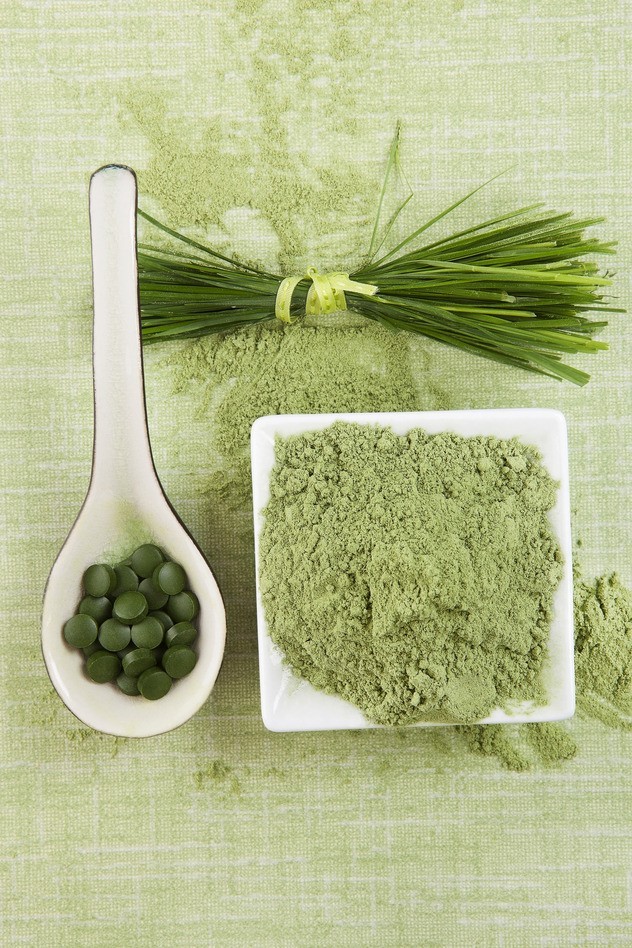 Since the early 1980's, however, high quality multiple vitamin and mineral supplements have been fortified with nature's most energy packed green foods (spirulina, barley grass, kelp, etc). These products have drawn raves from people throughout the country, because their green food bases provide vast amounts of energy, so that our metabolic reactions can occur more efficiently. Even these products, however, had limits, in that they could do little to improve the health of cells that had been damaged by free radical oxidation. Thus, the team that originally developed them (Pat Bailey and Jery Cochern) never quit working on improvements. Now, they have created the world's first Superior Tonic Multiple™.
It is called Life Essence™, and it is light years beyond anything else available.
Life Essence™ is the only multiple in the world that provides meaningful levels of the world's great Superior Tonic Herbs. When combined correctly, these herbs tonify (strengthen, invigorate, or renew) every cell in the body by providing hundreds of antioxidant factors. Each of these factors has affinities for particular groups of cells in specific organ systems.† This means, of course, that all metabolic reactions can occur more efficiently. And, as mentioned above, metabolic efficiency is the most accurate measure of health.
In truth, even the most poorly made multiples have some antioxidant values. Vitamin C, Vitamin E, zinc, selenium and several other major nutrients serve as antioxidants in the body. However, these antioxidants have limited applications, and can provide only a fraction of the total value found in Life Essence™. Life Essence™ does, of course, provide a complete spectrum of vitamins and minerals – all in the forms and amounts research shows are most effective. It also provides many co-nutrients and supporting factors missing in other products.
But, its real secret lies in its living base, which provides hundreds of phytonutrients that energize and help to repair damaged cells.† There is simply no better way to revitalize cellular function and, thus, to maintain good health, than Superior Tonic Herbs. They are completely safe and unbelievably effective. For over 4000 years, they have protected the health of hundreds of millions of Asians.
---
What Life Essence™ Doesn't Have
The body treats different forms of the same nutrients in entirely different ways. Calcium carbonate, for example, is very poorly absorbed, while calcium citrate is absorbed quite well. Most consumers do not understand these finer nutritional points, because they have not been trained about how the body treats specific nutrient forms. And, even astute nutritionists can be fooled by complex labeling laws. Many micro-nutrients like folic acid, vitamin B12, selenium, chromium and biotin are used in such small amounts that the only way to disperse them evenly through a large batch of nutrient mix is to first "triturate" them (spray them onto a carrier substance). Such carriers are almost always dicalcium phosphate, baby laxatives or sugars, which are substances we would not want our own families to use.
Legally, when these ingredients are used only as carriers for other nutrients, they can be present in supplements without being listed on labels. Because raw material suppliers do not stock triturated nutrients without the carriers mentioned above, Pure Essence Labs makes their own, to be sure they are sprayed on calcium citrate and other materials that provide legitimate nutritional value.
The same care is taken with other ingredients. They pay above market prices for tonic herbs that are never treated with hexane, benzene, ethylene oxide or other synthetic chemicals. This also insures that they are "full spectrum" extracts, so that you get every nutrient with which nature blessed them, rather than having certain nutrients stripped out during processing.
---
Why Life Essence?
The main reason for using dietary supplements is to obtain nutrition missed from consuming foods that may lack nutrients due to production or over-processing. Thus, if a supplement also fails to supply such nutrients, it fails in its only reason for being. The modern diet is commonly deficient in vitamins, minerals, trace elements and enzymes, but even more so in phytonutrients and antioxidants. It follows, then, that the most healthful supplements are those that provide the widest varieties of these factors in the levels the body needs.
In this regard, Life Essence™ is in a world of its own.
In short, Life Essence™ is superior to other multiples in five ways:
Life Essence™ provides ideal potencies of every vitamin and mineral, all in the forms the body uses best. Vitamin E is complemented with mixed tocopherols, beta carotene with mixed carotenoids, and so on. These vitamins and minerals activate the body's enzyme systems, so that energy may be more efficiently liberated from foods.†
For superior antioxidant protection, it provides a wealth of factors that are missing in other multiples. These factors include grape seed extract, alpha lipoic acid, L-cysteine, MSM, phycocyanin, SOD, and hundreds of antioxidant factors that occur within its profound base of Superior Tonic Herbs.
It contains a built in memory module, with 120 mg of standardized ginkgo biloba, which doubles as a heart and circulation tonic. Better circulation helps distribute all its nutrients to cells throughout the body.†
With over 4000 mg of nature's most potent SuperFoods, it provides the energy to get you through even the most hectic day.
It provides the equivalent of over 8500 mg. per day of the world's most revered Superior Tonic Herbs (up to 60 times more than other multiples). These herbs support immunity, enhance mental clarity, promote longevity and improve every aspect of metabolism.
---
Want a Once Daily Vitamin Instead?
We feel everyone can benefit from adding Life Essence into their regimen, because we believe virtually everyone needs the levels of nutrition it provides. However, if you simply can't bring yourself to take more than one tablet per day, then One 'n' Only should be the supplement of choice.
One 'n' Only is not just designed for those who prefer to take one tablet daily, it is also for those who want the energy and nutritional support of Life Essence. While it can't provide much calcium or magnesium in a single tablet, it can offer a superb blend of virtually everything else you need.
In addition to its vitamins and minerals, One 'n' Only provides over 5900 mg of the world's most potent SuperFoods and Tonic Herbs, which is more than other three or four tablet formulas (except for Life Essence), and over 20 times more than you'll find in any other once daily multiple. These foods and herbs deliver over 1000 different phytonutrients that enhance metabolic efficiency in ways that vitamins and minerals simply cannot do alone.
---
About Pure Essence Labs
Pure Essence Labs was founded to offer high quality, safe and effective dietary supplement formulas to benefit human health, while demonstrating a firm commitment to planetary ecology. Pure Essence Labs strives to promote both holistic health and a holistic lifestyle. They create their formulas using an ideal balance of East-meets-West traditions and practices to work in synergy to support all body systems.
Pure Essence Labs Formula Check List
Hand-selected raw materials
Ingredients backed by sound science to serve a solid purpose in a particular formula
Acceptable to holistic health disciplines such as Ayurvedic and Traditional Chinese Medicine
Each ingredient tested 3x for identity, heavy metals, and toxins to ensure purity and safety
---
---